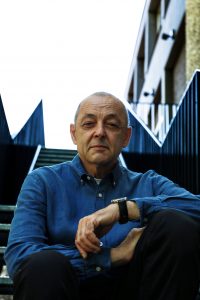 Hamid Shokat was born in 1949 in Tehran. He left Iran and went to the United States of America in 1968. He soon joined the ranks of the radical movement, particularly, the Iranian student opposed the Shah. On the eve of the monarcy's fall in 1979, he participated in the creation of the National Democratic Front of Iran, dedicated to upholding secular democratic values. He was a contributing editor of the Front's official organ, Azadi. When the publication was banned, he decided to leave Iran. Currently, He is a resident of Berlin and Berkeley, California.
He has published numerous articles and books, all hitherto focused on different aspects of the Marxist movement in Iran and the Soviet Union. His first two books- Background to the Transition to the One-Party System in Soviet Russia, 1917-1921 and The Lost Years: From The October Revolution to Lenin's Death — dealt with the origins of totalitarian dictatorship in Russia and its impact on the evolution of Marxist theory, particularly amongst the Iranian Left.
A three-year grant from the Buntstift e.V Foundation, affiliated with Germany's Green Party, allowed him to finish the research, and publish his two-volume study of the history and evolution of the movement of the Iranian students and the eventual creation, and collapse of their famous Iranian Students' Confederation.
In 1985, Hamid embarked on a new project. Through in-depth interviews with four of the leading members of the Iranian Communist movement, he has offered a fresh, critical perspective on the personal pathos, behind-the-scenes debates, theoretical struggle and the utopian dreams of a generation of Iranian Marxists. So far, four volumes have been published in the series called An inside look into the Iranian left movement. The fourth volume has been published in June of 2005.
The fourth edition of his book- The political biography of Ahmad Qavam (Qavam-os-Saltana), one of the most pivotal and controversial figures in the twentieth-century political history of Iran, has been published in Winter 2016.
The second edition of his book, Flight into Darkness: a political biography of Shapour Bakhtiar, the last Prime  Minister under the Shah before the Iranian Revolution of 1979, was published in Germany, November 2016. The English translation of this book it is been published by the Ibex Publishers in the U.S.A in August 2019.
A Love and Rebellion: Letters written by Ahmad Ghassemi, member of the Central Committee of the Tudeh Party of Iran, to his wife, Azam Saremi, is the latest book by Hamid Shokat published in summer 2019 by Akhtaran Publishers in Iran.
Furthermore, he is currently working on a political biography of Khalil Maleki- The leader of an Iranian Social Democrat movement in the mid-50s and the 60s.